item #32:
One part of my job that I love doing for Mr. Neil Gaiman is to take care of fan requests.
A growing subsection of this is requests for quotes written out by Boss that people get permanently inked upon themselves.
An popular quote for Neil to write out, is the funny but true statement: "Writers are liars"- and in this case, he wrote it three, count 'em, three times—to make sure the person etching this on their skin had options.
He is kind.
This little card will go free to good home anywhere in the world, sent at my cost, a writing mantra that you can post above your trusty Underwood, if you tell me this:
What have you, as writers, found to be the most effective trick used to shut out distraction while writing?
Please use the comments section of this blog (or either of the others) & I'll pick in a day or two where it goes.
Speaking of tattoos, last year, Neil and David Mack teamed up to do a beautiful little 8" x 10" print of a poem that @Burtzor got tattooed on his back.
We have sold out completely of the red sash silkscreens, I have only 7 remaining blue variants, click here for those.
but the red sash version is gone gone gone. GONERS, I say! The delicate silkscreen work by my friend Brian Rise out of Rise Ink in Austin was so gorgeous, I cried real tears of joy when they arrived.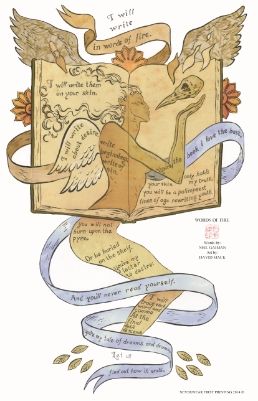 David and I were chatting recently and he said, well if those are gone, why don't we release the version that Burton actually got tattooed—so here they are, I announced them this morning:
A bigger version, clocking in at 11" x 17", printed right down the street in West Hollywood—
again, we will split the run, David getting the evens and me holding the odds.
Hand-numbered, limited edition full color run of 500 this time, all stamped with the @Neverwear seal.
ONLY $25.00 for the next few days, until Feb 4, 2014 at midnight PST, then they go up to $38.00
A Valentine etched on the skin by Neil and David, a little reward for those early supporters.
PS. don't forget, this key will be hidden somewhere near the best dive bar I can find around my hotel...more clues tomorrow.